Latest offers
Looking to invest in one of the latest games top games consoles? The all new XBoxOne will be dropping down to £399.99 at GAME.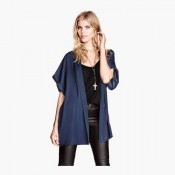 Add a touch of oriental to your wardrobe with this navy kimono: £19.99 Short kimono in a weave with a matt silk feel, with lapels in a contrasting colour, short, wide sleeves with sewn-in turn-ups and no buttons.
Looking for a stylish buy, brand new dress or even a whole new wardrobe? Update your look with 100s of stylish women's clothes, women's shoes, jackets and more arriving daily, you won't be disappointed. Black Daisy Tea Dress £38.00
News & Events
Posted: Tuesday, 4 March 2014
The 30th of March is an important date in the mind of any Peterborough United supporter and not just because they love their mothers! 

Posted: Tuesday, 4 March 2014
Best known for her bold menswear designs and work with Kanye West, Katie Eary makes her high street debut with a sensational collection.
Posted: Thursday, 30 January 2014
Spring is just around the corner, so make sure you step out in style with Clarks.
Voice your opinion
With St. Patrick's Day just around the corner on 17 March, we ask you whether you'll be celebrating the occasion.